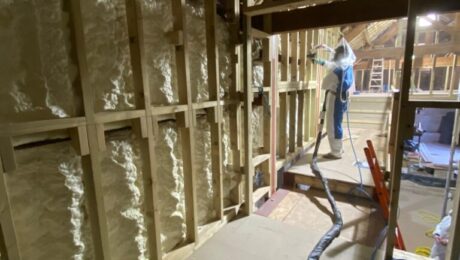 Over the past 6 years we've been building a small portfolio of barn conversions and older stone properties that we have solved insulation problems for.  Although historically a smaller part of our total portfolio, in more recent years we've seen an increase in demand on this type of work for us.
Typical Barn Construction
Barn conversions and stone built properties are often complex shaped structures. These are notoriously difficult to insulate and can be very cold if not insulated correctly.
The nature of the walls on these types of buildings means there is rarely a straight wall. This poses issues for traditional forms of insulation which struggle to get a good seal and eliminate cold spots.
Using spray foam to insulate walls of a barn, it is advisable to build a timber stud frame inside the property.  This should be stood off from the wall by about 50mm. This way we can spray foam directly to the brick work and between the frame. The foam will also lap behind the stud and eliminate any cold bridging from the walls.  It should be finished off with a vapour control layer prior to plasterboard, Although insulated plasterboard can be used if you require a lower U value.  Walls below ground level should be protected with some sort of tanking membrane prior to spraying with foam.
The top of the wall plate, where roof and wall meet often pose issues. When insulating with foam we spray to the top of the wall plate and create a seamless bond right the way up onto the roof. This gives a uniform seal from wall to roof that eliminates air leakage and cold spots.
Common Barn Roof Construction
Typically barn roofs will have a couple of larger roof beams as well as some smaller ones. Clients generally like to keep the larger ones on show for aesthetic reasons and to maintain that old barn look.  The smaller roof joists are in many cases only 70mm deep, these will require a counter batten fitted in order to take an adequate amount of foam between them, usually a further 3×2 batten is sufficient allowing us to apply 140mm of foam between joists.  When used in conjunction with an insulated plasterboard over the face, a U value of around 0.18 is easily achievable.
Varying depths of foam will alter the overall U value. There are numerous ways we can achieve your required U values, either increasing the depth of counter batten and depth of foam or by increasing the depth of insulated board over the face of the foam.
When it comes to insulating a barn conversion or similar type building, we have a wealth of knowledge and past experience to help you right from the planning stage.  We can provide U value calculations based on a variety of scenarios to meet your needs.  We know its never a one size fits all with this type of building. We will work with you to figure out how to achieve the best thermal envelope for the building in question.
Wildlife in Barns
Bats can be an issue for barn conversions. Often, old style bitchimen felt must be maintained. This is so that bats don't get their claws stuck which they can do in a modern breathable felt. Where a none breathable bitchimen type felt is used, a suitable vapour control layer must be used prior to plasterboard.
We have also come across some barns that have to have a specific section of the roof void sectioned for nesting of barn owls. Open cell foam helps with soundproofing and can be helpful in maintaining a quiet environment. Both owl & human can co exist in relative peace.
Exposed Locations
The location of a lot of barn conversions can be in exposed areas susceptible to high wind. The air sealing nature of spray foam and its ability to seal all gaps will prevent air infiltration and heat loss. This will give a much more comfortable environment within the property.
One of the many benefits of spray foam is its noise reduction qualities, including from external elements such as rain.
Windows, Doors and Reveals
As the pictures show, a number of the windows have curves which poses an impossible task to insulate for other materials. Spray foam however, can follow the shape of even the most complex structure allowing you to get a full bond of insulation. With an expansion rate of 100x, the foam will fill all small gaps within the building envelope in the hardest to reach areas. Open cell foam remains soft and flexible and is easy to trim to suit odd shapes.
Ventilation
The more airtight a building becomes, the greater the need for mechanical ventilation. Modern forms of ventilation such as MVHR (mechanical ventilated heat recovery), work well in conjunction with spray foam insulation. MVHR can provide a fresh source of outdoor air while retaining 80% of the heat from within the home. It does this by recycling it over a heat exchanger and putting it back into fresh air from the outside.
Summary
If you are about to undertake a barn conversion or similar type of project and are unsure of how to create an energy efficient building envelope that is comfortable to live in and doesn't cost the earth to heat, get in contact with us and we can assist with all your insulation needs. We can assist from planning through to install and will offer honest sound advice that meets your needs.