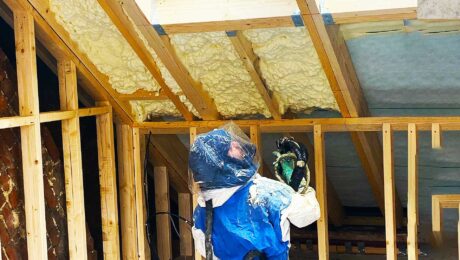 Of late we've been inundated with customers asking about government schemes, informing us of offers from companies offering grants of £1500 for spray foam insulation. We like to think we know our stuff when it comes to all things spray foam and we wanted to share our knowledge with you. Hopefully this article should shed some light on what is and isn't available grant wise and help you avoid any potential hard sell tactics.
We appreciate that information can sometimes change quickly, therefore we always advise you to do your own research when looking at what funding is available. There are numerous reputable sources where you can check for the most recent funding options, The government website (www.gov.uk/topic/housing/funding-programmes) is always a good one to check, likewise the money saving expert website (www.moneysavingexpert.com) can be a great source of up to date information.
The most recent grant scheme available was the 'Green Homes Grant Scheme' this was a government funded scheme to help homeowners pay for the cost of energy efficiency measures to their homes by contributing 2/3rds of the cost to qualifying customers. When the scheme was launched in September 2020, the Government pledged £3billion to making UK homes greener, on the face of things the scheme looked great, but things unfortunately turned sour. Customers were struggling to find installers and there was a minefield of paperwork and regulations for installing companies making it almost impossible to get it set up effectively. The scheme was eventually cut short by the government and scrapped for new applicants in March 2021.
Although there may be some funding options for other measures within your home, spray foam insulation is not currently on that list. Currently there are several companies advertising grants of £1500 for spray foam insulation, saying all you need to do is fill in one form with your contact details and they will let you know if you're eligible. At the time of writing this there currently are not any grants available for spray foam insulation for pitched roofs or underfloor. If you hear of any grants available, we advise you to do your own research. Find out where this funding is coming from and check its not just a sales ploy, and that you are not actually paying an inflated price for the services you require under the premiss you are qualifying for a grant.