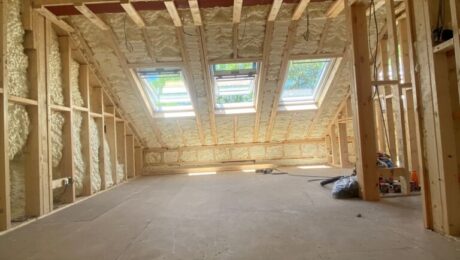 What do we mean by airtightness?
Many people get confused and think that if somethings airtight it's going to trap moisture and cause materials to sweat, especially where spray foam insulation is concerned.
Put simply, something that's airtight has the ability to stop mass transfer of air. Which does not always mean stopping the ability to pass moisture vapour (breathe) if the product is breathable.
Air movement around poorly fitted insulation boards via convection will lose far more heat at a much faster rate than through heat loss via conduction of an airtight material.
If you were to leave your fridge door open just a small amount it would soon stop cooling things down. As little as a 5% gap around an insulation board can equate to a 50% loss in thermal efficiency.
Air leakage control is essential for improving
Indoor air quality
Limiting heat losses due to convection and mass transfer
Avoiding mould growth
Limiting airborne noise from the outside
Improving effective U value
U Value
The U value of a building can be greatly reduced if the insulation product is not fitted correctly. We have seen countless times where an insulated boards are fitted in a vaulted ceiling and a hole is cut in the middle of the board for lighting. That hole goes directly through to a cold ventilated space above and will greatly reduce the U value of that section. This is due to the heat lost via convection through the hole. It will also allow cold air to push into the building from the outside.
Open cell spray foam insulation is an insulator and air barrier material all in one. It expands 100x to fill every gap and stops heat loss through air leakage, convection, and mass transfer. It's a fully breathable product that will allow moisture vapour diffusion allowing materials in contact to continue to breathe.
Airtightness is key to a building's energy efficiency; you can have all the insulation in the world but if you leave the front door open its always going to be cold.  Control air leakage and you will be well on your way to achieving an energy efficient home.
Spray foam insulation is a key component in achieving an airtight building envelope.