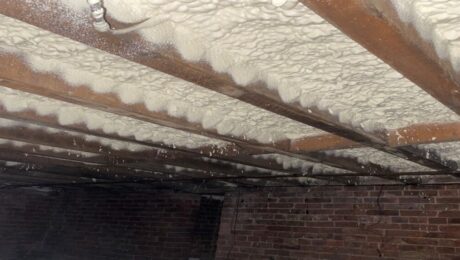 Underfloor insulation in new builds and extensions is part of current building regulations and any new property must have the floor insulated.  However, for many years this was completely overlooked.  Many older properties were built with suspended timber floors and insulation was almost always overlooked.  This means all that's between you and the cold outdoor air are wooden floorboards, which is the main cause of cold floors. This, combined with expansion gaps on the building perimeter and holes for pipes and cables allows a considerable amount of cold air to push up into the building, making it even colder.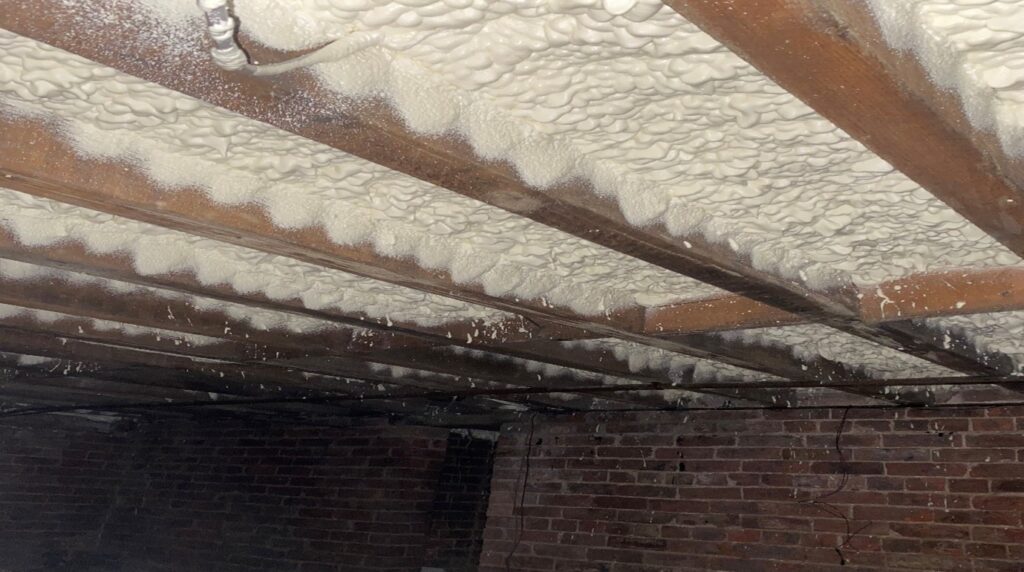 Uninsulated floors cause unwanted heat exchange between the warm air in the room and the cold floor. Heat exchange happens faster at higher temperature differentials. Basically a cold floor and warm room will always cool down much quicker once the heating is turned off.
Solution…
Insulating with open cell spray foam insulation is considered the most effective way to combat the problem of cold floors and unwanted draughts. Open cell spray foam is an insulator and air barrier combined.  The breathability of the product means that it will allow moisture vapour diffusion. This stops materials from sweating and allows them to breathe. The air barrier status of the product stops cold air circulating through the material, acting in essence like a wind proof jacket.  
The old way to insulate a suspended floor uses traditional loft insulation rolls. This is held in place with some sort of netting. The problem with this method lies in the fact that the material is not an air barrier meaning cold air can still circulate through the material and find its way through gaps in the floor. On the perimeter of all buildings is an expansion gap. Lying hidden below the skirting board, it is there to allow the floor to expand and contract with seasonal changes. It only needs to be a gap of a few mm but added up around the perimeter, it can equate to the size of a small window opening allowing cold air to continually push in. A tell tail sign of this gap can be seen on some properties with a very small dark line on carpets around the edge at the bottom of the skirting board where dust has blown up from the void below the floor.
One of the great benefits of open cell spray foam insulation is its ability to fill this gap. The product expands 100x its sprayed size and will fill every gap. Because it stays soft and flexible it will allow the floor to expand and contract also moving with the seasonal changes.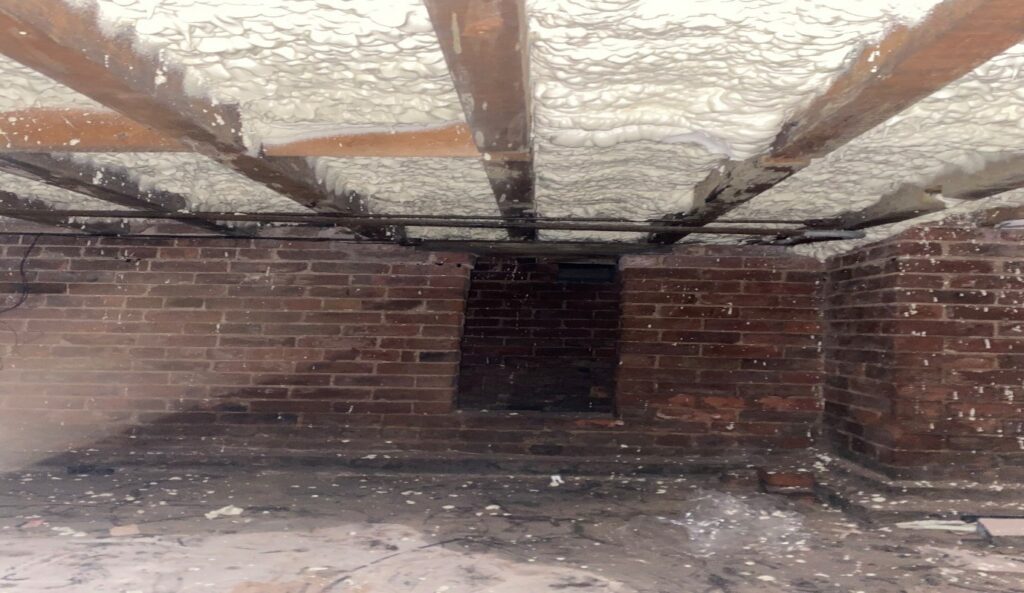 Need for Ventilation…
Ventilation of a suspended timber floor is an important aspect of keeping rot at bay. We have seen many examples of clients blocking their air bricks. Although this might offer some benefits in reducing draughts, it can cause problems with both wet & dry rot. When we insulate with spray foam insulation, we leave all air bricks clear from obstruction and material to allow for sub floor ventilation. Once the foam is installed it won't matter about air bricks as the cold air will only circulate below the floor and won't be given the chance to push up into any gaps above.
15% Heat Loss…
The Energy Saving Trust give a figure of 15% heat loss from a suspended timber floor. However, this figure does not consider draughts that push up into the property from the expansion gaps and other holes created from pipes and cables. It's very hard to give an exact savings for any type of house. Obviously, every house is different. Some have small expansion gaps, some have large ones, some have bare floorboards or tiles, and others have big thick carpets. This will impact on the additional efficiency of the insulation. It's not uncommon for our clients to report savings of over 20% on their heating bills after insulation. We also get constant feedback on the improved "comfort factor". The temperature feels more stable and holding for longer even once the heating goes off.
We have done lots of work on Victorian properties that have exposed floorboards that have been sanded and varnished. These floors look great, but some have gaps of 3-4mm between every board and with gaps like that you might as well have the front door open. Floors like this will notice a huge difference to the heating costs and temperature within the house once insulated. The only downside we've had reported is a visual one. Once sprayed some floors will end up with some small white lines between the floorboards, this is where the spray has filled the gap. This is easily rectified with a furniture touch up pen and they also discolour over time. It's a very small price to pay against what you will save on heating costs and for the comfort factor.
Growing Energy Costs…
With energy costs on a steep rise, there is no better time to insulate your suspended timber floor. Get in contact with us and we will be happy to provide you with a free no obligation quote. There are no pushy salesmen or 'sign up now for X amount discount', just a straightforward open honest approach. We will assess your property, take some measurements, and send you a quote by email that you can review in your own time.